Community Practice
Community Practice is experience learning programme through which students take part in a short internship with a non-profit organisation.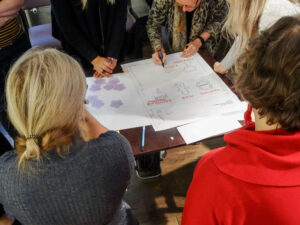 Students get a more practical curriculum, schools get a more diverse programme and NGOs get to meet their local youth and future champions.
More than 48 schools and 250 NGOs take part in the program to accommodate nearly 1000 youth annually.
The idea is simple: students select an NGO of their liking in which they spend approximately 10 to 15 hours doing something useful for the organisation, while learning about the structures, goals and practices of the non-profit. They participate in everyday work and see how citizen initiatives are born and executed. Students learn which civic problems are tackled by NGOs and why. NGO provides an instructor who explains why is what they do important. In school, teacher will help analyse and understand what they learned, combining it with theoretical knowledge.
Community Practice was developed in cooperation with teachers, using examples from abroad where volunteer work is part of school curriculum. The program is based on the International Baccalaureate initiative "Creativity. Action. Service" and joint movement of the American educational institutions and community called "Community Service".
Statistics
In 6 years, more than 50 schools with more than 3500 students combined have taken part.
According to research in 2016/2017, 87% of participants stated that it was a valuable experience.
51% of all students expressed interest being involved with an NGO in the future.